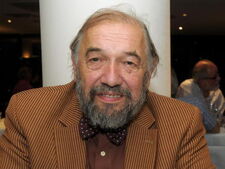 Driek van Wissen (July 12, 1943 - May 21, 2010) was a Dutch poet who wrote for Sesamstraat, the Dutch co-production of Sesame Street.
From 1968 to 2005 Van Wissen was a Dutch language teacher. In January, 2005 he resigned, because he was chosen to succeed Gerrit Komrij as the Dichter des Vaderlands (Poet Laureate of the Netherlands). In the last decade of his life, Van Wissen wrote almost 900 sonnets for poetry website Gedichten.nl. He died as a result of an intracranial hemorrhage.
Ad blocker interference detected!
Wikia is a free-to-use site that makes money from advertising. We have a modified experience for viewers using ad blockers

Wikia is not accessible if you've made further modifications. Remove the custom ad blocker rule(s) and the page will load as expected.