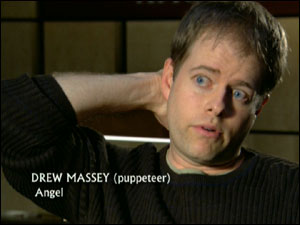 Official Bio
Drew Massey is an actor, puppeteer, and voice-over guy whose film credits include Forgetting Sarah Marshall, Men In Black I and II, The Hangover, The Producers, Doctor Dolittle, Cats & Dogs, Muppets Wizard of Oz, Darjeeling Limited, and Team America. Drew has performed on TV in Community, Greg the Bunny, Angel, Animal Practice, Malcolm in the Middle, Muppets Tonight, Cousin Skeeter and Crank Yankers. Drew has puppeteered in commercials for Sony (as Plato, the blue alien) and Levi's (as Flat Eric), but is most known for as the driving chicken in the Foster Farms Chicken commercials. He also draws really well and loves animals.
other info:
Massey designed and built some of the new puppets that appear in Puppet Up! including Harvey (Puppet Up!), Dr. Scientist, Punk Guy, Mr. Guy, Creepy old man, Punu the Tiki God, Germ 1 and Germ 4.
Henson/Muppet credits
Non-Henson credits
Community: Puppet Abed
Neil's Puppet Dreams
Cousin Skeeter
Angel: Puppet Angel
Malcolm in the Middle: "Reese Comes Home"
Lost on Earth
Foster Farms Chicken Commercials: Tom Chicken
Team America
The Adventures of Timmy the Tooth
See also
External links
Ad blocker interference detected!
Wikia is a free-to-use site that makes money from advertising. We have a modified experience for viewers using ad blockers

Wikia is not accessible if you've made further modifications. Remove the custom ad blocker rule(s) and the page will load as expected.