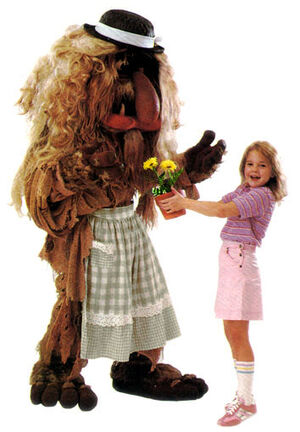 Drew Barrymore (b. 1975) became famous as a child actress in E.T. the Extra-Terrestrial. One of her scenes included Sesame Street footage in the background. A clip of her performance was included in the Muppet Babies episode "What Do You Wanna Be When You Grow Up?"
She was interviewed by Sweetums in Muppet Magazine issue 3.
Parlaying her successful childhood career into adulthood, she has gone one to not only act, but also produce and direct.
Her television work includes voice over work on Family Guy and The Simpsons, and guest hosting Saturday Night Live. On the big screen, Barrymore starred in and produced the recent Charlie's Angels movies, and played Sugar in Batman Forever.
References
In Sesame Street Unpaved, it's pointed out that Elmo shares his astrological sign, Aquarius, with Drew Barrymore ("who was about Elmo's size when she starred in E.T.").
In the Elmo's World episode "[[[Elmo's World: Drawing|Drawing]]," the TV voice announced The Nancy Drew Mysteries with Drew Barrymore as coming up.
External links
Ad blocker interference detected!
Wikia is a free-to-use site that makes money from advertising. We have a modified experience for viewers using ad blockers

Wikia is not accessible if you've made further modifications. Remove the custom ad blocker rule(s) and the page will load as expected.