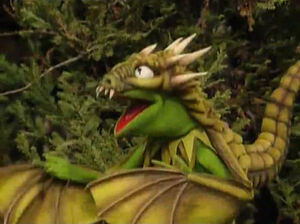 Dragonheart was a 1996 fantasy film about a knight's friendship with a dragon, starring Dennis Quaid as the knight and the voice of Sean Connery as the dragon.
During the film's early production phase, in 1992, Jim Henson's Creature Shop was hired by director Raffaella di Laurentis to create the dragon as an enormous animatronic. A warehouse in Camden Town was utilized for the project, becoming the new Creature Shop headquarters, and a full-sized dragon head and quarter-scale animatronic dragon puppet were produced. John Stephenson referred to the dragons as "one of the best jobs we've ever done." Only a few frames of test footage were shot. Dragonheart was put on hold, and when the film was finally completed, the dragon was created entirely through computer animation.[1]
References
Connections
Sources
↑ Bacon, Matt. No Strings Attached. p. 79
External links
Ad blocker interference detected!
Wikia is a free-to-use site that makes money from advertising. We have a modified experience for viewers using ad blockers

Wikia is not accessible if you've made further modifications. Remove the custom ad blocker rule(s) and the page will load as expected.