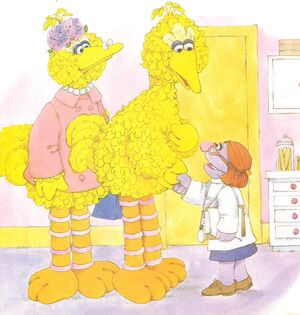 Dr. Staywell is a doctor who gives Big Bird his annual checkup in the Sesame Street book Big Bird Goes to the Doctor. While at her office, the doctor checks Big Bird's posture, ears, throat, tummy, neck, and wing. She listens to his heart, checks his reflexes, tests his eyesite and takes his temperature. Finally she gives Big Bird the word he's been dreading, he needs his booster shot. She promises that it won't hurt for long, and wishes Big Bird a healthy year.
Aside from Big Bird, the doctor also sees Roosevelt Franklin, Prairie Dawn, Flossie, Cookie Monster and Grover as patients.
Ad blocker interference detected!
Wikia is a free-to-use site that makes money from advertising. We have a modified experience for viewers using ad blockers

Wikia is not accessible if you've made further modifications. Remove the custom ad blocker rule(s) and the page will load as expected.