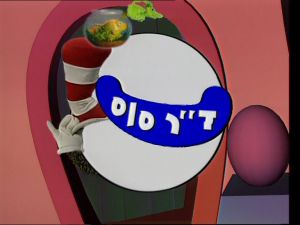 The Wubbulous World of Dr. Seuss was dubbed into Hebrew for Israel TV and video release, shortened (due to language issues) to simply Dr. Seuss.
Voices
Ya'acov Booch
Ayelet Kurtz, Ido Mosseri, Talli Oren, Zvika Schwartzberg
Theme Vocalists: Chani Budagov, Hayim Peniri, Talli Oren, Shmuel Tene
Dubbing staff
Musical direction: Shmuel Tene
Song recording: Yosi Appelbaum
Language consultant/translation: Nathan Nachmias
Voice director: Nico Bar
Ad blocker interference detected!
Wikia is a free-to-use site that makes money from advertising. We have a modified experience for viewers using ad blockers

Wikia is not accessible if you've made further modifications. Remove the custom ad blocker rule(s) and the page will load as expected.