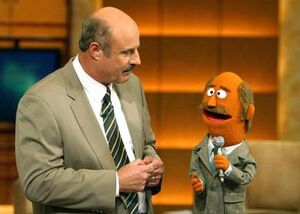 Dr. Phil is an American daytime talk show hosted by Phil McGraw. After McGraw's success with his segment on The Oprah Winfrey Show, Dr. Phil debuted in September 2002. On the show McGraw offers advice in the form of "life strategies" from his experience as a clinical psychologist.
Appearances
External links
Ad blocker interference detected!
Wikia is a free-to-use site that makes money from advertising. We have a modified experience for viewers using ad blockers

Wikia is not accessible if you've made further modifications. Remove the custom ad blocker rule(s) and the page will load as expected.