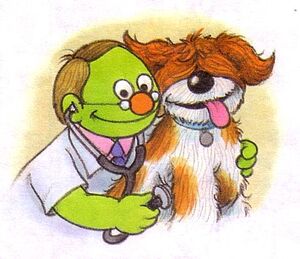 Doctor Robert K. Duberman is a veterinarian who takes care of Barkley in I Want to Be a Veterinarian. He listens to Barkley's heart, looks in his eyes and ears, weighs him, and checks him for fleas. He also gives him his yearly shot. The book reports that the shot "only hurt for a minute," but does not provide any evidence to support this claim.
See also
Ad blocker interference detected!
Wikia is a free-to-use site that makes money from advertising. We have a modified experience for viewers using ad blockers

Wikia is not accessible if you've made further modifications. Remove the custom ad blocker rule(s) and the page will load as expected.