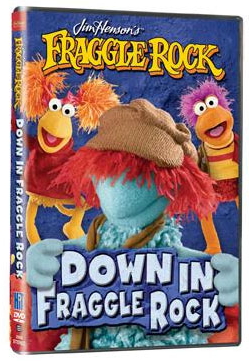 Down in Fraggle Rock is a Fraggle Rock DVD released in 2006, containing four episodes from the series.
Episodes
DVD Bonus Features
Trivia
An Easter egg can be found on the Bonus Features menu; by highlighting "HIT Extras", then pressing left, then up, Wembley's head will pop-up beside the menu. Click on this icon for instant access to the bonus episode.
Unlike the previous release, the new logo is shown at the beginning of each episode. However, nothing else has changed.
While the episodes in this DVD featured the new logo during the opening, the "hidden" episode featured the original logo.
When the episodes, "Wembley's Egg" and "Boober's Dream" were released on the first disc of the second season DVD set, the new logo and episode titles used on this DVD remain intact.
Gallery
Ad blocker interference detected!
Wikia is a free-to-use site that makes money from advertising. We have a modified experience for viewers using ad blockers

Wikia is not accessible if you've made further modifications. Remove the custom ad blocker rule(s) and the page will load as expected.