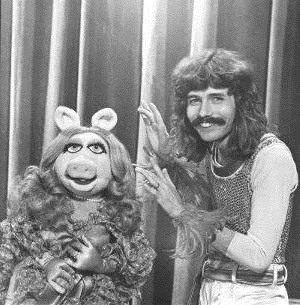 Doug Henning (1947-2000) was a magician from Fort Garry, Manitoba, Canada. He was the guest star on The Muppet Show episode 421.
With his magic shows, he rejected the traditional tuxedo and top hat costume in favor of bright, multi-colored casual clothing and tights. He also sported long hair and a long, bushy mustache. He was nominated for Broadway's 1975 Tony Award as Best Supporting or Featured Actor (Musical) for The Magic Show.
He ran for the House of Commons in Canada as a candidate for the fringe Natural Law Party in 1993.
Henning is credited with reviving the magic show as a form of mass entertainment in the 1970s and popularizing it on television.
Henning died in Los Angeles of cancer on February 7, 2000.
References
Ad blocker interference detected!
Wikia is a free-to-use site that makes money from advertising. We have a modified experience for viewers using ad blockers

Wikia is not accessible if you've made further modifications. Remove the custom ad blocker rule(s) and the page will load as expected.