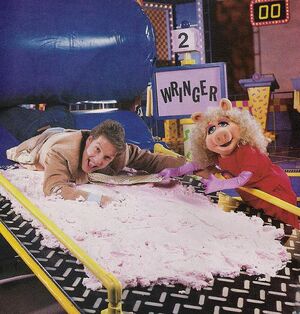 Double Dare was a children's game show which aired on Nickelodeon from 1986 to 1992. Hosted by Marc Summers, the show combined trivia questions with physical challenges, and it was listed as one of the "50 Greatest Game Shows of All Time" by TV Guide. The show was filmed in Philadelphia, Pennsylvania, but eventually taping was moved to Universal Studios Orlando, with the show title changing to Family Double Dare.
The show spawned several spinoffs, and has been adapted for several countries, including Canada, The Netherlands, Germany, Australia, Brazil, India and the United Kingdom.
References
Connections
External links
Ad blocker interference detected!
Wikia is a free-to-use site that makes money from advertising. We have a modified experience for viewers using ad blockers

Wikia is not accessible if you've made further modifications. Remove the custom ad blocker rule(s) and the page will load as expected.