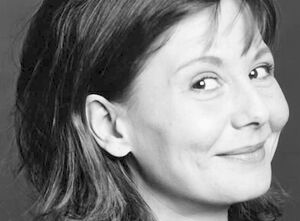 Dorette Hugo (b. 1965) is a German voice actress who dubbed the female leads in Jim Henson's two 1980s Creature Shop films, Kira in Der Dunkle Kristall (The Dark Crystal) and Sarah in Die Reise ins Labyrinth (Labyrinth). She also dubbed Grizzy in Die Abenteuer von Elmo im Grummelland (The Adventures of Elmo in Grouchland).
Hugo is the primary German voice of Jennifer Garner and dubbed Madchen Amick on Twin Peaks and in most other film and TV roles. She also dubbed Shirley Henderson in Bridget Jones' Diary and its sequel, Salma Hayek in Studio 54, Kelly Macdonald in Gosford Park, Halle Berry in Boomerang, Kristin Chenoweth in The Boy Next Door, and Sandra Oh in Sideways.
In animation, she dubbed the speaking voice of Ariel in the first dub of The Little Mermaid, Fifi the feather duster in Beauty and the Beast, the title character in Thumbelina, Elmyra on Tiny Toon Adventures, Janine on The Real Ghostbusters, Gadget on Chip and Dale's Rescue Rangers, Steff on Freakazoid!, and Katie Ka-Boom on Animaniacs. Hugo has voiced Tina in the German audiobook series Bibi Blocksberg/Bibi und Tina for over twenty years.
External links