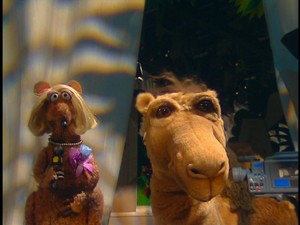 Doreen the Camel is a camel on The Animal Show who appears in Episode 205: Arctic Fox & Camel. She tells Stinky the Skunk and Jake the Polar Bear about camels and how they live in the hot climate.
The camel puppet later appeared in Episode 303: Owl & Frog, where she was interviewed by Rhonda Rat whom Rhonda was asking the camel, "Which of these animals is not nocturnal." Its guess was its husband, Murray, because he is not nocturnal and he never wants to go out. Not pleased, Rhonda has her go down a trap door, and gets a whiff of the camel's breath. "No wonder Murray doesn't want to go out with her," Rhonda says, sniffing.
The puppet later appeared along with other animals in the nativity set for It's a Very Merry Muppet Christmas Movie.