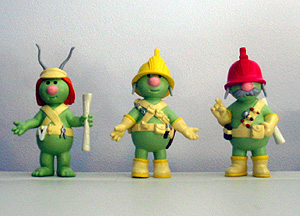 The American company Sababa Toys released three Doozer PVC figures in 2003, in honor of Fraggle Rock's 20th anniversary.
The following characters were made:
Cotterpin, holding a roll of paper
A Builder Doozer with a yellow helmet and his arms spread out
An Architect Doozer with a red helmet, a moustache and pointing upwards
Each Doozer came in a blue cardboard box.
The figure of the Architect Doozer is not the Architect Doozer from the series, just another architect.
The Doozer figures are in scale with Sababa's Fraggle Rock dolls.