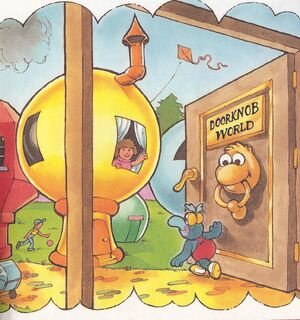 Doorknob World is a theme park located in Beluga, New Mexico. Featured in the Muppet Babies book Gonzo and the Great Race, Doorknob World fascinates Baby Gonzo.
The attraction is a veritable cavalcade of door-attachments, appended and used as houses, with a giant door as the gateway. The primary tourists appear to be an array of smudge-faced suburban families. There is slight indication, through chimney smoke and curtains, that Doorknob World may in fact have permanent residents as well. As enchanting as this tribute is to the round hardware staples without which one could never move from room to room, Gonzo later envisions a very different Doorknob World, a gloomy, abandoned collection of ramshackle doorhandles with boarded doors, broken windows, and tumbleweeds tossing through the streets.
Ad blocker interference detected!
Wikia is a free-to-use site that makes money from advertising. We have a modified experience for viewers using ad blockers

Wikia is not accessible if you've made further modifications. Remove the custom ad blocker rule(s) and the page will load as expected.