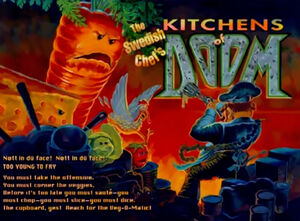 Doom is a video game released in 1993 for MS-DOS. Along with Wolfenstein, it is recognized for popularizing the first-person shooter style of video game. In the game, players assume the role of a space marine who fights his way through a military base on Mars' moon, Phobos, while battling demons from Hell.
References
Among several mini-games included in The Muppet CD-ROM: Muppets Inside is "The Swedish Chef's Kitchens of Doom", a spoof of the original game. The player controls the Swedish Chef, navigating his way through a maze more closely modeled after Wolfenstein. The Chef is equipped with an egg beater or an immersion blender, transforming blocks of cheese into nachos or potatoes into french fries. Many opponents meet their demise with a burping sound effect.
Ad blocker interference detected!
Wikia is a free-to-use site that makes money from advertising. We have a modified experience for viewers using ad blockers

Wikia is not accessible if you've made further modifications. Remove the custom ad blocker rule(s) and the page will load as expected.