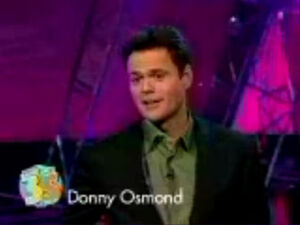 Donny Osmond (b. 1957) is a singer from Utah who rose to fame as half of a duo with his sister Marie Osmond.
He was one of several celebrities who was featured in the "My Favorite Sesame Street Moments" segments taped for Sesame Street's 35th season.
Donny sang "Anything You Can Do" with Elmo on the Donny & Marie talk show in the late 1990's.
When the Muppets appeared on Good Morning America on September 20, 2011 to promote season 42, Donny and Grover briefly chatted, teasing Donny's segment about Dancing with the Stars. Osmond suggested Grover would be a much more capable competitor than Ron Artest.
References
External links
Ad blocker interference detected!
Wikia is a free-to-use site that makes money from advertising. We have a modified experience for viewers using ad blockers

Wikia is not accessible if you've made further modifications. Remove the custom ad blocker rule(s) and the page will load as expected.