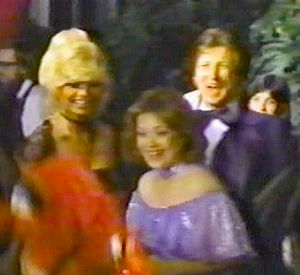 Donna Pescow (b. 1954) is an American actress, who starred as Annette in Saturday Night Fever and as Donna Garland on the sitcom Out of This World.
She appeared in the 1979 special The Muppets Go Hollywood alongside WKRP co-stars Loni Anderson and Gary Sandy.
Pescow's other credits include the Soap operas All My Children, General Hospital and One Life to Live, Broadway's Wicked, and the television series The Sopranos, NYPD Blue, and The Love Boat.
External links
Ad blocker interference detected!
Wikia is a free-to-use site that makes money from advertising. We have a modified experience for viewers using ad blockers

Wikia is not accessible if you've made further modifications. Remove the custom ad blocker rule(s) and the page will load as expected.