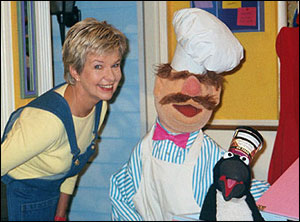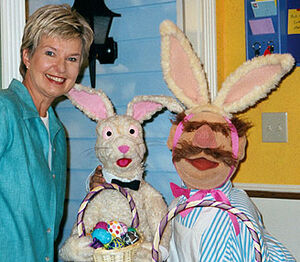 Donna's Day is a family television show starring Donna Erickson that presents a variety of activities and projects for children and parents or caregivers to do together. It aired on PBS for two years starting in 1997, before teaming up with Jim Henson Productions and moving to the Odyssey Network in 1999. The Muppets made several appearances on Donna's Day in the show's third season. Veteran Muppet writer Craig Shemin was brought aboard for those segments.
Muppet Appearances
Show 4, Episode 312: You Must Remember This
Show 6, Episode 324: Jacks (simplicity)
Show 7, Episode 301: Make Me Laugh
Show 8, Episode 313: Running a Household
External links
Ad blocker interference detected!
Wikia is a free-to-use site that makes money from advertising. We have a modified experience for viewers using ad blockers

Wikia is not accessible if you've made further modifications. Remove the custom ad blocker rule(s) and the page will load as expected.