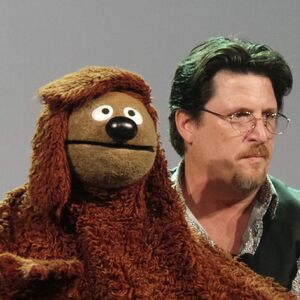 Donald Trump is an American billionaire who is chairman and president of The Trump Organization and is the founder of Trump Entertainment Resort. Trump hosted the reality television series The Apprentice on NBC from 2003 to 2015. In June 2015, Trump announced his candidacy for President of the United States in the 2016 election, seeking the nomination of the Republican Party.
Trump was parodied in a 1988 episode of Sesame Street with Ronald Grump, a rich Grouch who approached Oscar about building his new "Grump Tower" on Oscar's property. Trump was parodied again on Sesame Street by Joe Pesci's character, also named Ronald Grump, in the 1994 TV special Sesame Street All-Star 25th Birthday: Stars and Street Forever!.
During the height of Trump's reality series The Apprentice, another spoof of The Donald appeared on Sesame Street with a Grouch named Donald Grump appearing in a 2005 episode and hosting a Grouchy spoof of The Apprentice. A parody Muppet of Trump was also built for the episode, intended to be a taxi cab driver, however his only featured scene was excluded from the final aired version, and he was only seen in promotional photos.
In a March 2012 installment of iVillage's Likes or Yikes?, Miss Piggy commented on "the Donald's" hair, giving it a "Yikes," adding "I adore his sartorial splendor, but the hairdo definitely needs to go!"
At an appearance at the D23 Expo in August 2015, Rowlf the Dog did an impression of Donald Trump using his floppy ears to mock Trump's comb-over hairstyle and quoting his "You're fired" catchphrase.[1]
Brian Henson and the Henson Company stage show Stuffed and Unstrung were featured in a 2012 episode of The Apprentice. Trump claimed in the episode to have once met Jim Henson.
Trump's former-wife, Ivana, contributed a recipe for Miss Piggy's 1996 cookbook, In the Kitchen with Miss Piggy.
See also
Sources
↑ @The Muppets on Twitter. August 14, 2015.
External links