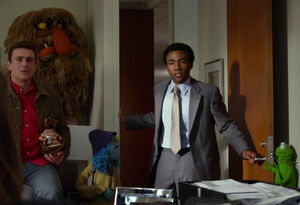 Donald Glover (born in 1983) is an American actor, writer and musician best-known as a regular on NBC's Community as Troy Barnes. He appears in the 2011 movie The Muppets as a junior CDE executive. He also appeared in a season 43 episode of Sesame Street as famous musician LMNOP.
Glover's other credits include 30 Rock (writing two episodes, and bit parts in three) and a stint as a staff writer on The Daily Show, as well as voice work on the Robot Chicken "Star Wars Episode III" special.
Ad blocker interference detected!
Wikia is a free-to-use site that makes money from advertising. We have a modified experience for viewers using ad blockers

Wikia is not accessible if you've made further modifications. Remove the custom ad blocker rule(s) and the page will load as expected.