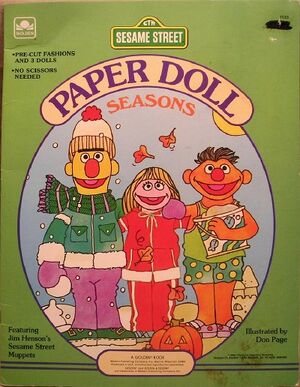 Don Page is an illustrator who rendered the Sesame Street cast for the paper doll set Paper Doll Seasons and the coloring books The Sesame Street Fire Department and The Sesame Street Numbers Coloring Book (all 1984).
Page illustrated the 1986 Golden Book Songs of Mother Goose. He did a number of books (including Valentine's Day Grump and Little Christmas Elf) for Troll in the 1980s and a series of Bible pop-up books in the '90s.
Ad blocker interference detected!
Wikia is a free-to-use site that makes money from advertising. We have a modified experience for viewers using ad blockers

Wikia is not accessible if you've made further modifications. Remove the custom ad blocker rule(s) and the page will load as expected.