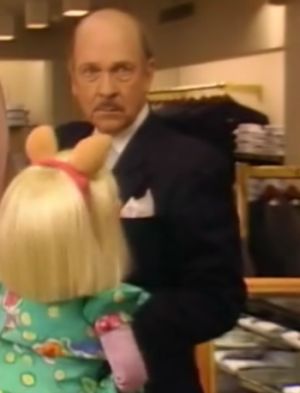 Don Draper (1929-1990) was a character actor who specialized in playing snooty salesmen or maitre'ds. He appeared in Miss Piggy's Hollywood (half of The Jim Henson Hour episode 105), cast to type as George Wendt's prim tailor.
Draper's other TV credits, dating to the 1970s, include episodes of Lou Grant, Diff'rent Strokes, Newhart, Married... with Children, Moonlighting, Hard Time on Planet Earth, and Mr. Belvedere. His few film credits include Moving (with Richard Pryor) and Caddyshack II (again playing to type, as a club manager).
External links
See also
Mr. Draper, for the Muppet caricature of the Mad Men character
Ad blocker interference detected!
Wikia is a free-to-use site that makes money from advertising. We have a modified experience for viewers using ad blockers

Wikia is not accessible if you've made further modifications. Remove the custom ad blocker rule(s) and the page will load as expected.