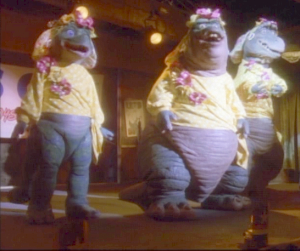 "Don't Sit Under the Pistachio Tree" is one of several songs sung by Earl Sinclair, Charlene Sinclair, and Roy Hess, as "The Sinclair Sisters," while they entertain the Pangaean troops in the Dinosaurs episode "Nuts to War: Part 2."
This song is a take-off of the Andrews Sisters song, "Don't Sit Under the Apple Tree."
Ad blocker interference detected!
Wikia is a free-to-use site that makes money from advertising. We have a modified experience for viewers using ad blockers

Wikia is not accessible if you've made further modifications. Remove the custom ad blocker rule(s) and the page will load as expected.