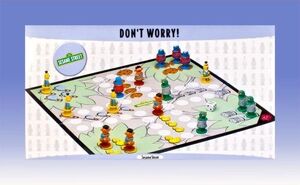 Don't Worry! is a version of the European board game Ludo, which is similar to the American Parcheesi or Milton Bradley's Trouble.
The Sesame Street edition was produced by German toy company United Labels in 2004. The game uses the Sesamstrasse characters -- Ernie, Bert, Cookie Monster and Oscar the Grouch. Several differently designed packagings exist, while the content appears identical. Pictured here is the 2006 version of the game
Ad blocker interference detected!
Wikia is a free-to-use site that makes money from advertising. We have a modified experience for viewers using ad blockers

Wikia is not accessible if you've made further modifications. Remove the custom ad blocker rule(s) and the page will load as expected.