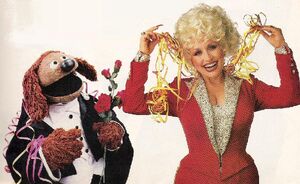 Dolly Parton (b. 1946) is an American singer, songwriter, author and actress. She also operates the Dollywood theme park in Pigeon Forge, Tennessee.
In 1986, she received an "Honorary Muppet Award" in Muppet Magazine issue 14.
Miss Piggy and Kermit appeared on her TV variety show, Dolly in 1987.
Parton tells this story about a discussion she had with her manager Sandy Gallin in her 1994 biography. Sandy said to her, "How can Kermit sing with a man's hand up his ass?!" To which Parton replied, "That's nothing; I did that for seven years on The Porter Wagoner Show!"
Kermit and Dolly sang "Islands in the Stream" on Good Morning America, November 27, 2012.
Dolly Parton could not appear on The Muppet Show (even though the performers were rallying for her to) as they had Loretta Lynn in season three.
References
External links
Ad blocker interference detected!
Wikia is a free-to-use site that makes money from advertising. We have a modified experience for viewers using ad blockers

Wikia is not accessible if you've made further modifications. Remove the custom ad blocker rule(s) and the page will load as expected.