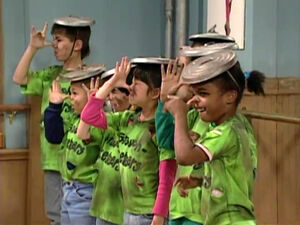 "Doin' the Grouch" is a dance Celina learned from Gene Smelly. She performs it with the kids and the Grouchketeers in her dance studio. The first time this dance was performed, Celina taught the Grouchketeers how to do the dance while Oscar the Grouch watched. At the very end Oscar was very impressed at how well Celina knew how to do "Doin the Grouch."
The second time this dance was performed was on the Sesame Street home video "Get Up and Dance". Big Bird wanted to have a dance birthday party for his beloved teddy bear Radar, so he & several kids including Gabi and Lexine went to Celina's dance studio & Celina agreed to have her studio as the party headquarters.
They danced several fun dances, including "A Very Simple Dance", "I'm a Little Airplane", "The Birdland Jump", "Do the Dog", "Do the Jelly" and "A Cat Had a Birthday". Suddenly, Oscar called from his newsstand demanding Celina to stop all the happy dancing. So Celina makes Oscar a deal and teaches Big Bird and the kids how to do "Doin the Grouch". Afterward, Oscar calls again and says "Now that was more like it!"
Releases
Video
Online