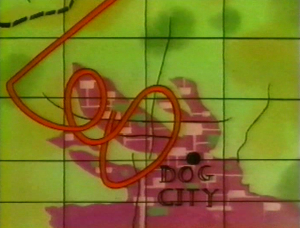 Dog City is a gritty, 1940s/50s-style film-noir burg, and the title location of both the 1990 television special and 1992-1995 series. In the special, Dog City is the home of the various Muppet dogs. For the series proper, however, the framing Muppet scenes took place in an unspecified, more modern world, while Ace Hart and his animated cohorts remain denizens of the noirish Dog City. Hydrants and bones combined with art-deco and 1940s-sensibilities to present a softened, canine counterpart to Gotham City. Key recurring locations within Dog City included Ace Hart's Office, The Kitty Kat Club, radio/TV station WFIDO, and Dog City Park. The political leader of Dog City is Mayor Kickbark, and Rosie O'Gravy is chief of police.
As revealed in the episode "Old Dogs, New Tricks," Dog City is located to the south of the metropolis New Yorkie.
Ad blocker interference detected!
Wikia is a free-to-use site that makes money from advertising. We have a modified experience for viewers using ad blockers

Wikia is not accessible if you've made further modifications. Remove the custom ad blocker rule(s) and the page will load as expected.