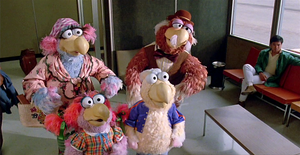 The Dodos are a family of dodos living at 35 Canary Row in Oceanview, Illinois. In the Sesame Street film Follow That Bird, they briefly acted as Big Bird's foster family, but, while well-meaning, they served only to remind Big Bird where his real family is: on Sesame Street.
The Dodos were clueless and often lacked awareness of their surroundings. Their daily family activity consists of hunting for worms. They tried to make Big Bird comfortable in his new environment, but they often disregarded Big Bird's feelings and did not want him associating with anyone who was not a bird like themselves. This prejudice upset Big Bird.
There are four birds in the Dodo family:
Book appearances
See also
Ad blocker interference detected!
Wikia is a free-to-use site that makes money from advertising. We have a modified experience for viewers using ad blockers

Wikia is not accessible if you've made further modifications. Remove the custom ad blocker rule(s) and the page will load as expected.