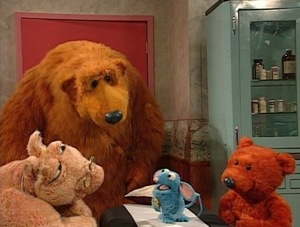 Doc Hogg's Office is where Doc Hogg treats his patients on Bear in the Big Blue House. Bear, Tutter and Ojo visited the office when Tutter hurt his tail in "That Healing Feeling." The office has a waiting room with toys and books to keep children entertained.
Ad blocker interference detected!
Wikia is a free-to-use site that makes money from advertising. We have a modified experience for viewers using ad blockers

Wikia is not accessible if you've made further modifications. Remove the custom ad blocker rule(s) and the page will load as expected.