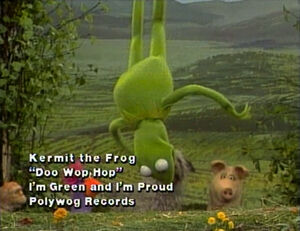 "Do-Op Hop" is, appropriately, a doo-wop song sung by Kermit the Frog on Sesame Street. The music video takes place on a countryside setting featuring Kermit as the main singer and two cows as back-up singers. Some other animals are seen in the background during the main chorus and are supposedly trying to hop like Kermit (which is really the puppeteers tossing the animals into the air). At the end, Kermit himself is tossed so crazily that his bottom ends up high in the air (see picture).
An a cappella version was also sung in the Sesame Street's 25th Birthday: A Musical Celebration! video, although Kermit was not one of the singers.
Notes
On Count It Higher: Great Music Videos from Sesame Street], the video has MTV-style captions that refer to Polywog Records. Although the song is legally titled "Do-Op Hop", the on-screen MTV-style captions in the video spell it as "Doo Wop Hop". The lyrics to this song were released on a songbook in the original release of the video.
The dog was puppeteered by Noel MacNeal, who also did a lot of the animal tossing.[1]
An instrumental version of the song can be heard in the video trailer for The Best of Kermit on Sesame Street.
Releases
Video
See also
Sources
↑

Facebook communication between N. MacNeal and G. Kieran. February 3, 2012
Ad blocker interference detected!
Wikia is a free-to-use site that makes money from advertising. We have a modified experience for viewers using ad blockers

Wikia is not accessible if you've made further modifications. Remove the custom ad blocker rule(s) and the page will load as expected.