Disneyland
Talk

19
27,092pages on
this wiki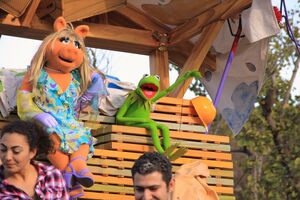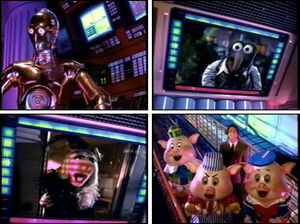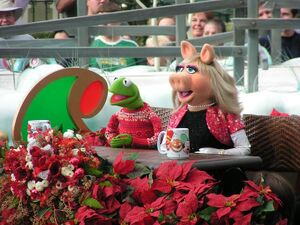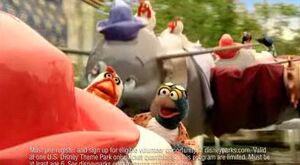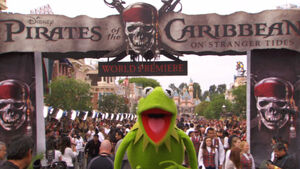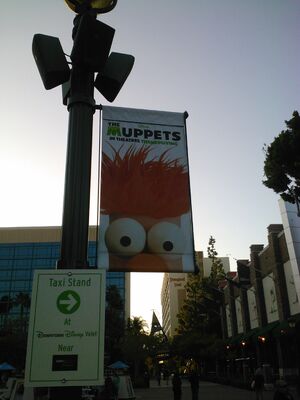 The Disneyland Resort is a theme park resort in Anaheim, California, run by the Walt Disney Company. The first park, Disneyland opened on July 17, 1955. It is the original Disney theme park. The second theme park in the resort, Disney California Adventure, (formerly Disney's California Adventure) opened on February 8, 2001. The resort also includes three hotels and a shopping, dining, and entertainment district called Downtown Disney.
In 1990, Miss Piggy and Gonzo appeared along with Tony Danza on Disneyland's 35th Anniversary Celebration television special.
Muppet*Vision 3D, an elaborate attraction featuring a 3D film with Audio-Animatronics and in-theater effects, developed in 1990 during Jim Henson's brief collaboration with Disney, had been rumored to become a part of the then upcoming Mickey's Toontown section of Disneyland and later a replacement for the Great Moments with Mr. Lincoln show, but neither plan came to pass.[1] Instead, the attraction opened at Walt Disney World in 1991. It had also been rumored that the Here Come the Muppets stage show, a Here Come the Muppets parade, The Magnificent Muppet All-Star Motorcade, and a Muppetland makeover were all supposed to be part of Disneyland in 1991.[2][3] Muppet*Vision 3D was eventually recreated for Disney California Adventure in 2001.
In 2004 Kermit and Miss Piggy hosted the Disney Parks Christmas Day Parade from Disneyland for the television special Christmas at Walt Disney World.
In 2005, as part of Disneyland's 50th Anniversary, the Happiest Homecoming on Earth, a photomosaic of Kermit as the Scarecrow and Miss Piggy as Glinda from The Muppets' Wizard of Oz was situated in Disney California Adventure near the entrance to Muppet*Vision 3D.
From February 13 through March 4, 2007, the Muppet Mobile Lab made several test runs at Disney California Adventure.
The Muppet Experiment, an "Alternate Reality Game", was held online and at the Disneyland Resort in December 2008.
In August 2009, the Muppets visited the parks to film commercials for the Give a Day. Get a Disney Day. campaign. Attractions featured in the television commercials and internet spots included, from Disneyland, Dumbo the Flying Elephant, Mad Tea Party, King Arthur Carrousel, Mr. Toad's Wild Ride, Big Thunder Mountain Railroad, Pirates of the Caribbean, Mark Twain Riverboat, and the Main Street Fire Engine, and from Disney California Adventure, Toy Story Midway Mania!.
In 2010, Kermit, Miss Piggy, and Sweetums appeared in Disney's Honorary VoluntEars Cavalcade at Disneyland.
In May 2011, Kermit appeared in a web video reporting from the "black carpet" at the world premiere of Pirates of the Caribbean: On Stranger Tides at Disneyland. The end of the video included a teaser for The Muppets.(YouTube)
In Fall 2011, Miss Piggy appeared at the end of Mickey's Costume Party Cavalcade at Disneyland.
On December 31, 2011, the Muppets' 2009 cover video of Bohemian Rhapsody was projected onto the mist screens along the Rivers of America at Disneyland as one of the "Random Acts of Disney" during the park's New Years Eve party. (YouTube)
The Muppets have also appeared on merchandise created specifically for the Disneyland Resort, including pins, Christmas ornaments, Vinylmation, and Pook-a-Looz.
References
When Kermit hosted The Tonight Show in 1979, he mentioned that the Muppets went to Disneyland, and that the guard at the gate refused to let them out.
In episode 317 of The Muppet Show, during Kermit's introduction to the closing number, he refers to Disneyland as "our favorite country."

At the D23 Expo in 2009, Pepe appeared in a video in front of the Muppet*Vision 3D building, mentioning some Disney theme park attractions that could be changed to be centered around him (YouTube). In another video, Pepe and Gonzo are trying to figure out the secret to Disney magic. Fozzie, who says he "interstudied" (presumably referencing the study abroad organization Interstudy) at the Country Bear Jamboree (former attraction, 1972-2001), deduces that part of it is the magic element "Sala kadula," leading to a brief rendition of "Bibbidi Bobbidi Boo" from Cinderella.
In The Muppets, in Veronica's office there is a picture of her children in front of Sleeping Beauty Castle at Disneyland.
Jim Henson once said, "I love Disneyland. It's like one of my very favorite places. Disneyland and Disney World I think are so beautifully done."[4]
In a 2014 interview for the Disney Parks Blog, Kermit named the Muppets' favorite attractions: "Miss Piggy loves Sleeping Beauty Castle so much, she tried to sublet it. And Sam Eagle can't get enough of the Enchanted Tiki Room. (It's a bird thing.) Fozzie, of course, loves the Jungle Cruise – he always brings a notebook so he can write down those jokes told by the guides. (Funn-ee!) Gonzo is a big fan of Space Mountain. There's nothing he likes better than flying through the air in total darkness. And as for me, I've loved It's a Small World ever since I first saw it at the New York World's Fair. Very catchy tune, too." [5]
Muppet Mentions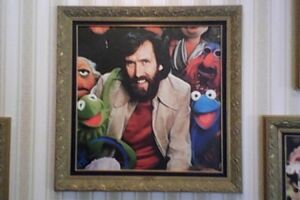 A picture of Jim Henson, Kermit the Frog, and other Muppets is hanging in the exit hallway of Disneyland's Great Moments with Mr. Lincoln attraction in the "Spirit of Imagination" section, as part of a gallery of influential Americans. (Also included in this section is a picture of George Lucas).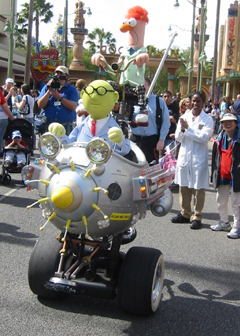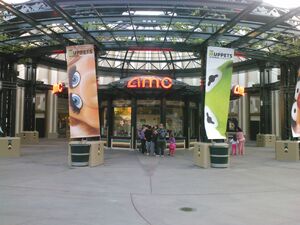 Connections
Sources
External links