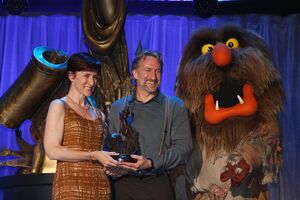 Disney Legends is a award ceremony program that honors people who made great contributions to The Walt Disney Company. It takes place in Burbank, California outside of Team Disney - The Michael D. Eisner Building. It was founded in 1987 by Andrea Favilli, who created the Disney Legends award, consisting of an arm of Mickey Mouse holding up a star-tipped wand. The ceremony also takes place at the biennial D23 Expo.
Jim Henson was inducted as a Disney Legend during the 2011 Disney Legends award ceremony at the D23 Expo on August 19, 2011.[1]
Connections
Several performers in Muppet/Henson productions have also made considerable contributions to The Walt Disney Company as Disney Legends.
Sources
External links