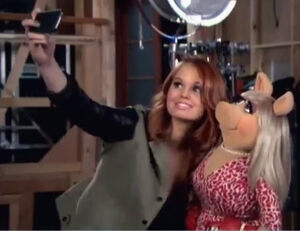 Disney Channel on the Set is a series of interstitials for Disney Channel wherein channel stars go behind the scenes of upcoming Disney movies.
In July 2013, Ross Lynch and Debby Ryan appeared in segments taking a behind the scenes look at the making of Muppets Most Wanted (including exclusive behind the scenes footage and appearances by Miss Piggy and Kermit the Frog).
In January 2014, another "On the Set" segment for Muppets Mosted Wanted debuted featuring Ross Lynch.

Videos
See also
Ad blocker interference detected!
Wikia is a free-to-use site that makes money from advertising. We have a modified experience for viewers using ad blockers

Wikia is not accessible if you've made further modifications. Remove the custom ad blocker rule(s) and the page will load as expected.