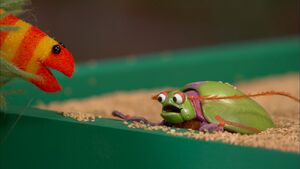 Dirty is Slimey's pet bug. The Detroit Dirt Digger was chosen by Slimey at the Bug-a-Wee Bug Shelter in Episode 4175 when it gazed adoringly at the worm. Once home, however, the bug turned shy and was frightened. Oscar and Slimey attempt to make it feel at home by providing it with fresh dirt, donning bug hats themselves, and eventually singing the "Welcome Bug Song", following suggestions in a book. Once he had settled in, Dirty showed a surprising skill; he writes in the dirt, and is able to provide the number and letter of the day.
The same beetle puppet appears in Episode 4226 (performed by Joey Mazzarino), where Elmo, Rosita and Telly learn he is not an arachnid.
Ad blocker interference detected!
Wikia is a free-to-use site that makes money from advertising. We have a modified experience for viewers using ad blockers

Wikia is not accessible if you've made further modifications. Remove the custom ad blocker rule(s) and the page will load as expected.