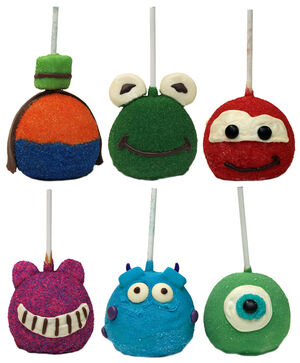 Dipped caramel apples are sold at several confectionery locations at Disneyland and Walt Disney World. They are green apples that are dipped in caramel, (marshmallows are sometimes applied, depending on the theme,) covered with a candy coating, and decorated to look like Disney characters, or simply themed to holidays and other theme park events.
In Summer 2012, a Kermit the Frog-inspired apple was introduced, along with apples themed to Goofy, The Cheshire Cat from Alice in Wonderland, and Pixar characters Lightning McQueen from Cars, and Mike and Sully from Monsters Inc..
External links
Ad blocker interference detected!
Wikia is a free-to-use site that makes money from advertising. We have a modified experience for viewers using ad blockers

Wikia is not accessible if you've made further modifications. Remove the custom ad blocker rule(s) and the page will load as expected.