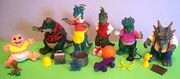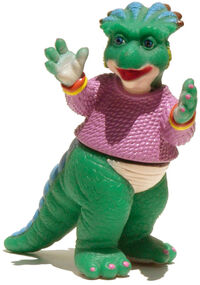 Hasbro released a series of six Dinosaurs action figures in 1993.
The figures were made of soft plastic. The figures were detailed plastic sculptures, but their only point of articulation was at the waist. Each figure came with two accessories; B.P. Richfield was the only figure able to hold an accessory in his hand.
The following figures were made:

Note: Although Baby Sinclair and B.P. Richfield were out-of-scale with the rest of the Sinclair family characters, these figures display well with the Dinosaurs premiums which came out the same year. The smaller Happy Meal toy of Baby goes well with the Hasbro action figure Sinclair family, while the Happy Meal Sinclair family (including mother-in-law Ethyl) are a better scale with the Hasbro Mr. Richfield.