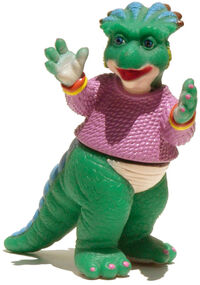 Hasbro released a series of six Dinosaurs action figures in 1993.
The figures were made of soft plastic. The figures were detailed plastic sculptures, but their only point of articulation was at the waist. Each figure came with two accessories; B.P. Richfield was the only figure able to hold an accessory in his hand.
The following figures were made:
Ad blocker interference detected!
Wikia is a free-to-use site that makes money from advertising. We have a modified experience for viewers using ad blockers

Wikia is not accessible if you've made further modifications. Remove the custom ad blocker rule(s) and the page will load as expected.