Ad blocker interference detected!
Wikia is a free-to-use site that makes money from advertising. We have a modified experience for viewers using ad blockers

Wikia is not accessible if you've made further modifications. Remove the custom ad blocker rule(s) and the page will load as expected.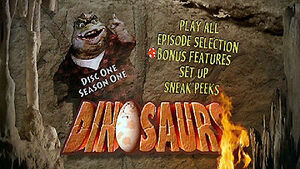 Dino-Eggs is a series of hidden DVD "easter eggs" of special bonus clips, trivia facts, and other goodies found on the Dinosaurs season sets. The hidden clips feature videos, interviews, and other behind the scene insights.
Disc 1 (3 eggs)
On the main menu select the giant egg "O" in the Dinosaurs logo to see a Dino-Eggs introduction by Brian Henson. (0:20)
On the main menu highlight "Bonus Features" and press left to see Bill Barretta talk about being inside Earl. (2:22)
Disc 2 (2 eggs)
On the set-up menu, highlight "Main Menu" and press right to see an "Ask Earl" clip that asks "What's your favorite kind of dinosaur?" (0:25)
On the episode selection menu, highlight episode 5 and press down to play a clip of Bill Barretta and Allan Trautman talking about animatronics. (0:23)
Disc 3 (3 eggs)
On the main menu, highlight "Set-Up" and press down to to play another "Ask Earl" clip that asks "What's the message behind 'Dinosaurs'?" (0:20)
On the set-up menu highlight "Main Menu" and press left to to see Bill Barretta and Allan Trautman goofing around with the Easter eggs. (0:15)
On the episode selection, highlight episode 12 and press down to to see Bill Barretta talks about how Baby Sinclair worked. (1:48)
Disc 4 (2 eggs)
On the set-up menu highlight "English for the Hearing Impaired" and press left see watch Bill Barretta share some of his personal behind-the-scenes photos. (1:22)
On the episode selection, highlight episode 21 or 22 and press up to watch Peter Brooke sharing information on the dinosaurs' middle names. (0:10)
Disc 4 (5 eggs)
On the main menu, highlight "Set Up" and press left to see an ad for the Premiere of Dinosaurs on TGIF. (0:12)
On the main menu, highlight "Set Up" and press right to see another ad for the Premiere of Dinosaurs, called "Earl and Fran Sinclair on Pre-marital Sex". (0:22)
On the bonus features menu, highlight "I'm the Baby, Gotta Love Me" and press left to see clips of the body actors behind the scenes. (1:21)
On the bonus features menu, highlight "Audio Commentary for Episode: Into the Woods" and click right to see Brian Henson talk about the poetic truth of latex. (0:41)
On the bonus features menu, highlight "Creatures with a Cause: The Issues of Dinosaurs" and click right to see Kevin Clash talk about when he first met Jim Henson. (2:05)