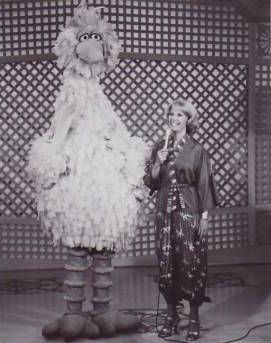 Dinah Shore (1916-1994) was an actress and singer who had a long career in television, recordings and public appearances. She had two #1 singles in the 1940's: "I'll Walk Alone", and "Buttons and Bows".
Kermit the Frog and other Muppets guest starred on her daytime talk show Dinah! (later Dinah & Friends) on November 18, 1975 where they sang "What Kind of Frog Am I?".
Shore also released a Sesame Street album in 1979, Dinah! I've Got a Song, and appeared in Night of 100 Stars.
External links