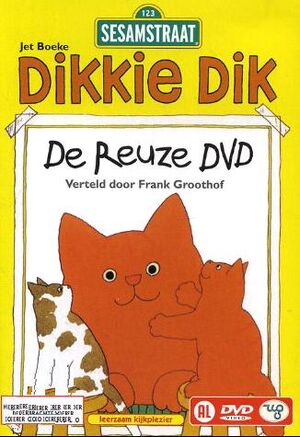 Dikkie Dik: De Reuze DVD (Dikkie Dik: The Giant Large DVD) is a DVD release of Sesamstraat, the Dutch co-production of Sesame Street.
The DVD contains a forty-minute compilation of insert clips from the Dutch episodes. All stories about Dikkie Dik are read by Frank.
This DVD was the fourth Sesamstraat DVD produced by Weton Wesgram (SESDV004) in a series of Sesamstraat compilation DVDs.
Segments
Twee Poezen Op Twee Krukjes (Two Cats on Two Stools)
Paraplu (Umbrella)
Goudvissen (Gold Fish)
Masker (Mask)
Piano
Twee Bakjes Eten (Two Tins of Meal)
Zieke Oude Poes (Sick Old Cat)
Het Boek (The Book)
De Knikker (the Marble)
Het Vlot (The Raft)
Onweer (Thunder)
Verfvlek (Paint Stain)
Koppen Met de Bal (Bouncing the Ball With your Head)
Ramen Zemen (Washing the Windows)
Bol Wol (Cloth of Wool)
Logeren (Staying Over)
Ad blocker interference detected!
Wikia is a free-to-use site that makes money from advertising. We have a modified experience for viewers using ad blockers

Wikia is not accessible if you've made further modifications. Remove the custom ad blocker rule(s) and the page will load as expected.