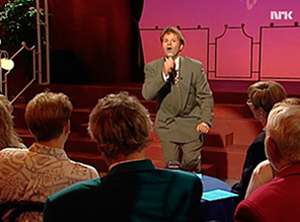 "Diggesang" ("Like song"), also called Jeg digger deg ("I love you), is a song about saying "I love you."
In 1993 Geir Børresen was a guest on the NRK music show Da Capo!, where he performed the song in the voice of Max Mekker. He walked around the studio with bent knees, like he did when he was wearing the costume.
Releases
Audio
Publications
Ad blocker interference detected!
Wikia is a free-to-use site that makes money from advertising. We have a modified experience for viewers using ad blockers

Wikia is not accessible if you've made further modifications. Remove the custom ad blocker rule(s) and the page will load as expected.