Different People, Different Ways
Talk

3
26,858pages on
this wiki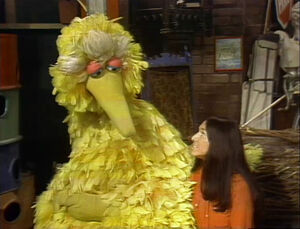 "Different People, Different Ways" is a Sesame Street song about how people can love one another in different ways.
In 1977, Buffy sang the song to Big Bird after the birth of her son Cody. Big Bird becomes jealous of all the attention that a new baby gets, but Buffy assures him that she has enough love for Big Bird, too. This scene was later used in the film Being There as shown on Chauncy Gardner's television.
Similarly, Queen Quinella sang it to Prince Firstly in A New Baby in My House. In Episode 3854, Alan sings this song to Big Bird when he was upset because Maria was supposed to spend time with him today, but she's too busy looking after Baby Bird. Years later in Episode 4056, Papa Bear sings the song to Baby Bear after his little sister Curly Bear is born.
Releases
Video