Ad blocker interference detected!
Wikia is a free-to-use site that makes money from advertising. We have a modified experience for viewers using ad blockers

Wikia is not accessible if you've made further modifications. Remove the custom ad blocker rule(s) and the page will load as expected.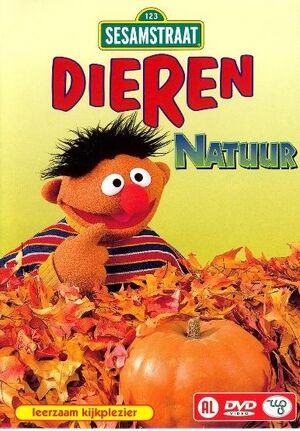 Dieren/ Natuur (Animals/ Nature) is a DVD release of Sesamstraat, the Dutch co-production of Sesame Street. The DVD was early released as 2 separate videotapes.
The DVD contains a sixty minute compilation of insert clips from the Dutch episodes and American clips dubbed to Dutch. The first half focuses on animals. The second half focuses on nature.
This DVD was the 5th Sesamstraat DVD produced by Weton Wesgram (SESDV005) in a series of Sesamstraat compilation DVDs.
Segments
Animals
Kikkers (Frogs)
Do-op-hop (Do-Op Hop)
Hoe Herken je Een Nijlpaard (How To Reconize a Hippo)
Ernie Telt Schapen (Ernie Counts Sheep)
Goudvis (Gold Fish)
Als Ik Aankom (When I Arive)
Giraffen Tellen (Counting Girafes)
K- Kangeroe (K- Kangaroo)
Boogie Woogie Biggen (The Boogie-Woogie Piggies)
Dierentuin (Zoo)
Visje (Fishy)
Oproep Aan Alle Duiven (Calling All the Pigeons)
Dieren Uit de Jungle (Animals From the Jungle)
Karel, de Kater: Kattenvanger (Carl the Cat: The Catsnatcher)
Nature
Zeg 's A (Say Aa)
Geduld Hebben, Jantje (Be Patient Little John)
Een Wandeling Door de Natuur (A Walk Through Nature)
Gratis (For Free)
Kaal (Bald)
Mijn Appelboom (My Appletree)
Boven, Onder (Up, Down)
De Boom (The Tree)
Kale Takken (Bals Brances)
Van Rups Naar Vlinder (From Catepillar to Butterfly)
Zo Zijn We Hier Gekomen (That's The Way We Came Here)
Gekke Slang (Crazy Snake)
Een Schuur In de Achterhoek (A Barn In the Midwest)
Noud & Marit: Een Leger Redden (Noud & Marit: Saving An Army)