Songs from
Sesamstrasse Die schönsten Geschichten
Released
2014
Format
CD
Label
Dhv Der Hörverlag
Cat no.
ISBN 9783844514438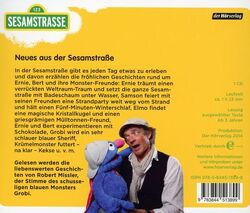 Die schönsten Geschichten (The Best Stories) is a 2014 Sesamstrasse CD of stories, read by Robert Missler, the German voice of Grover.
Product description
On the 40th Birthday Sesame Street
In Sesame Street is always something going on: Samson is nursed back for his health, the Sesame Street friends go for a seaside trip, Grobi finds a friend to play with, Ernie and Bert experiment with chocolate ... These and many other cheerful everyday stories from your Sesame Street Friends.
Track listing
Ansage
Die faule Hängematte
Die faule Hängematte
Ernie, Bert und das Schokoladenexperiment
Bibos Hutparade
Strandparty in der Sesamstraße
Elmo und Oskar
Ernie im Weltraum
Das Maronifest
Das Maronifest
Mariechen zieht um
Schaumberge
Der fünf-Minuten-Winterschlaf
Der fünf-Minuten-Winterschlaf
Was siehst du, Elmo?
Von deinen und von meinen Dingen. Warum hast du jetzt was ich wollte?
Der Schneebärenmann
(1 CD, running time: approximately 83 minutes)
Ad blocker interference detected!
Wikia is a free-to-use site that makes money from advertising. We have a modified experience for viewers using ad blockers

Wikia is not accessible if you've made further modifications. Remove the custom ad blocker rule(s) and the page will load as expected.