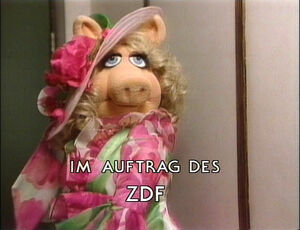 Die fantastische Miss Piggy Show is the German dub of The Fantastic Miss Piggy Show.
As with Die große Muppet-Party (the 1985 special The Muppets: A Celebration of 30 Years), two German dubs exist of this production.
The first dub aired on ZDF on December 6, 1984, featuring the original voices from Die Muppet Show. The special was billed by an off-screen announcer as "to celebrate ZDF's new broadcast center." ZDF was the Muppets' home network throughout the 1970s and 1980s, and minor references are made throughout the special, though never again by name.
Yet, when the special aired a second time on RTL2 during the holiday season of 1995, a whole new dub had been produced, featuring the second set of voices used since Die Muppets Weihnachtsgeschichte (the 1992 film The Muppet Christmas Carol).
Voices (first dub)
Credits
German Adaptation: Eberhard Storeck
Editor: Hans-Dieter Radke
Ad blocker interference detected!
Wikia is a free-to-use site that makes money from advertising. We have a modified experience for viewers using ad blockers

Wikia is not accessible if you've made further modifications. Remove the custom ad blocker rule(s) and the page will load as expected.