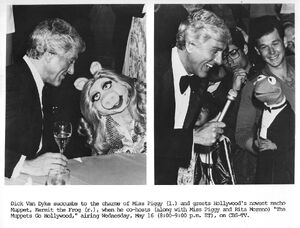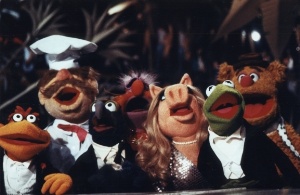 Die Muppets in Hollywood is the German dub of The Muppets Go Hollywood.
It aired only once, on September 11, 1979, on ZDF. It was never released on video.
During its introduction, an unseen voice over host announces the special to be in celebration of Die Muppet Show airing its 50th episode on ZDF. In Dick Van Dyke's interview with Kermit, the frog later once more mentions the airing of their 50 anniversary episode on ZDF the following day, while van Dyke points out the production of their first feature film. Muppet Movie would premiere in German speaking countries the following year.
Voices
German end credits
Ad blocker interference detected!
Wikia is a free-to-use site that makes money from advertising. We have a modified experience for viewers using ad blockers

Wikia is not accessible if you've made further modifications. Remove the custom ad blocker rule(s) and the page will load as expected.