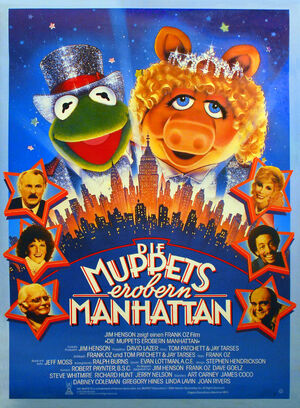 Country (Language)
West Germany
(German)
Released
March 22, 1985
Running time
91 minutes
Dubbing Studio/
Localization
Script Translator/Editor
Eberhard Storeck
Voice Director
Eberhard Storeck
Musical Adaptation
Local Rating
FSK 6 (ages 6 and up)
Die Muppets erobern Manhattan is the German dub of The Muppets Take Manhattan. The film received theatrical release in West Germany on March 22, 1985 (252 days after the film's US-release date). It was never released in East Germany.
It was the last German dub to feature most of the same voices heard on Die Muppet Show, with Eberhard Storeck once again directing the dub and adapting the dialog. Yet in contrast to the Muppet Show characters, not all Sesame Street characters appearing in the finale wedding scene were dubbed by their original Sesamstrasse voice actors.
Voices
Lobby cards
Releases
See also