Ad blocker interference detected!
Wikia is a free-to-use site that makes money from advertising. We have a modified experience for viewers using ad blockers

Wikia is not accessible if you've made further modifications. Remove the custom ad blocker rule(s) and the page will load as expected.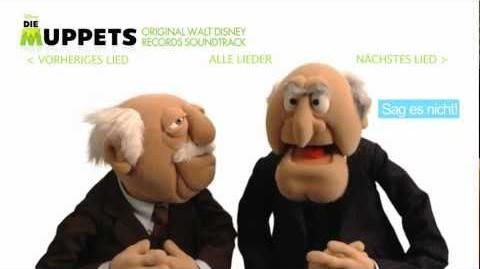 Die Muppets - Original Film-Soundtrack is the German language soundtrack release of Die Muppets, released in 2012 by Walt Disney Records (EMI).
It copies the original soundtrack in track order and length.
Track listing
Muppet Show Thema - Die Muppets
Die Muppet Studios endlich!* - Walter
Alles ist Grandios - Gary, Mary und Walter
Die alte Truppe* - Kermit und Gary
Erinnerung - Kermit und die Muppets
Wir fahren* - Kermit und Walter
Das ist Reno* - 80er Roboter und Mary
Pechoolo Casino - Fozzie und die Moopets
Willkommen zurück* - Kermit, Fozzie, Walter und Dr. Goldzahn
Eine Party nur für mich* - Kellnerin und Mary
Mit mir allein - Mary und Miss Piggy
Wir bitten demütig* - Kermit und Tex Richman
Ich bin Tex Richman - Tex Richman
Die Antwort lautet: Nein* - Tex Richman und Kermit
Bist du ein Mann oder ein Muppet??* - Mary
Mann oder Muppet - Gary und Walter
Beim Friseur* - Kermit
Die Göttinnen des geflügelten Gesangs* - Kermit
Forget You - Camilla and The Chickens
Es ist Zeit für unser Lied* - Kermit und Miss Piggy
Glücks-Regenbogen - Die Muppets
Geh da raus und hilf* - Gary
Wie bezaubernd, ein Finale* - Onkel Tödlich
Alles ist Grandios (Finale) - Alle (=Everybody)
Willst du, Mary ...* - Gary und Mary
See also