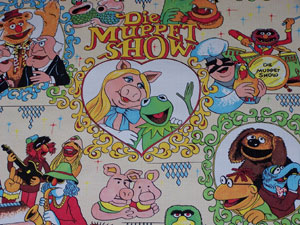 Wallpaper produced in Germany based on Die Muppet Show, the German translation of The Muppet Show.
The characters on the wallpaper are: Miss Piggy, Kermit, the Swedish Chef, Animal, Fozzie Bear, Statler and Waldorf, Dr. Teeth, Floyd Pepper, Zoot, Janice, Rowlf the Dog, Scooter, Gonzo, Male Koozebanian Creature, Female Koozebanian Creature, a green Beautiful Day Monster, an orange Frackle and 2 Pigs.
Ad blocker interference detected!
Wikia is a free-to-use site that makes money from advertising. We have a modified experience for viewers using ad blockers

Wikia is not accessible if you've made further modifications. Remove the custom ad blocker rule(s) and the page will load as expected.