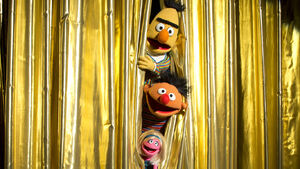 Die Große Sesamstrassen-Gala is a Sesamstrasse TV special that aired on October 12, 2013 on children's channel KIKA, as part of the show's 40th anniversary celebration.
The special uses select Ernie & Bert Songs, framed by a gala event hosted by Prairie Dawn. The special also features Wolle, Pferd and the Wolf as the house band, Elmo as a janitor, Cookie Monster and Finchen, who struggles to get a good view of the show in a running sub-plot. Other characters include Preston Rabbit, several Anything Muppets, Anything Monsters and Chickens.
The TV-special features celebrity appearances by Udo Jürgens, Reinhard Mey, Dick Brave and Boy that were individually featured as Ernie & Bert Songs, and appear here both extended and with new audience angles inserted.
The entire special is currently available online at Sesamstrasse.de - Die Große Sesamstrassen-Gala.
External links
Ad blocker interference detected!
Wikia is a free-to-use site that makes money from advertising. We have a modified experience for viewers using ad blockers

Wikia is not accessible if you've made further modifications. Remove the custom ad blocker rule(s) and the page will load as expected.